You can wait for ages for a knitted art show, then two come along at once, and how different they are from each other, while geographically close so they can be seen at the same time.
Rosemarie Trockel's early Knitted works are on show at Skarstedt Gallery in swanky St James (if you can't find it, the doorman at the Ritz is very helpful). A contemporary conceptual artist Trockel can be relied upon to have an interesting take on what is usually considered women's domestic work, by having her designs knitted on a machine by a technician. "I wanted to know what causes a given kind of work to be regarded by women as embarrassing, both in the past and in the present: whether this has to do with the way the material is handled of whether it really lies in the material itself." (Kunstforum International, Feb '88).
Have we moved on from this now, or are we more open to considering those ideas nearly twenty years down the line? The works feel sterile and flat, mimicking as they do the abstract canvases of masculine painters prevalent at the time that Trockel was poking fun at with 'Who will be in in '99'. The baby clinging to the giant ball of wool is another matter, made later and larger than the other works, it takes up a whole room to itself. Oddly realistic, the newborn is peacefully asleep but in danger of slipping off and being crushed by a rolling ball of brown fluff and made me very anxious — another comment on women's work, perhaps.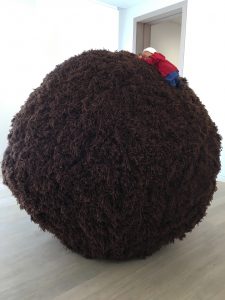 (next time, Channing Hansen)