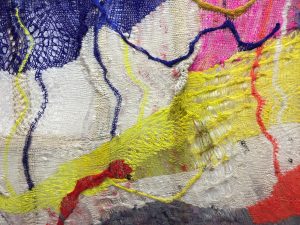 In contrast to the restrained and intellectual work of Rosemarie Trockel at the Stephen Friedman Gallery just around the corner, are  some of Channing Hansen's knitted pieces, two knitting exhibitions in London's private art world.
Hansen is from Los Angeles and I haven't seen his work in the UK before. The pieces, which have titles such as Frameshift, Software and Heavy Weather, are hand-knitted and then pulled over stretchers as if they were paintings.  Although they look, well, intuitive, they are apparently planned through algorithms based on his own DNA.
In the gallery blurb Hansen quotes Robert Irwin: "To be an artist is not a matter of making paintings of objects at all. What we are really dealing with is our state of consciousness and the shape of our perceptions."
He uses rare breed wool raised on a farm in Idaho that he spins and dyes himself. Tellingly, the gallery attendant told me Hansen is hyperactive and uses knitting to keep his hands and mind busy. Busy, busy.